Elaine Mantyka is co-founder, dance director and operations manager for DancEgypt. She has been dancing since 1976 and performing professionally with DancEgypt since its inception in 1984. She has attended numerous workshops across North America as well as designed and developed major workshops in Saskatoon and area. Elaine co-choreographs dance productions for the professional troupes and co-instructs several classes with co-founder Monica Kreuger.
You can contact her at elaine@dancegypt.com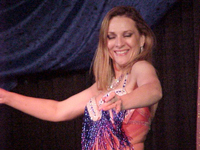 Monica Kreuger, the other founder and dance director of DancEgypt Dance Co., has been involved in middle eastern dance since 1976. After realizing that the level of a yoga class that she had signed up for at the local YWCA was not what she was looking for, she switched to a new class that was offered by an Egyptian woman. It was called belly dancing. That was it. From the time she first heard the beat and felt the movement, she knew she was hooked. It also happened to be the first class offered in Saskatchewan and she felt fortunate to be learning from an Egyptian woman. Over the next several years she learned and taught with Victoria Bishara. Elaine Mantyka started in the second class that Victoria offered and the two of them advanced quickly to teaching and performing. After Victoria retired from teaching Monica and Elaine started DancEgypt.
You can contact her at monica@dancegypt.com